IMPORTANT: STAND UP TO LAMBETH MARCH will now take place 8th OCTOBER 2016…. (this is changed from 1st October 2016 due to clash with other event)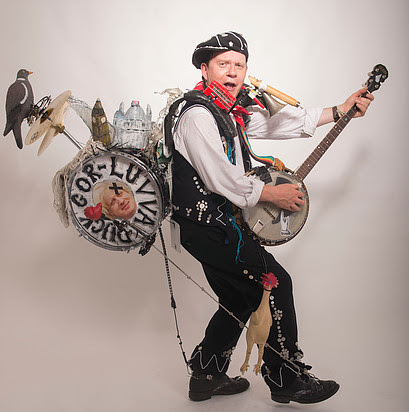 SATURDAY'S HIGH STREET HAPPENING IN SYDENHAM /  MEXICAN PUPPETEERS AT FOOD MARKET / PAXTON CENTRE LAUNCHES / DANGEROUS WOMEN OF SOUTH LONDON etc
Summer may be nearly over but that doesn't mean the outdoor fun stops in Sydenham! For the High Street Happening this Saturday, September 10th Jake Rodrigues' One Man Band brings some good old-fashioned London entertainment to the market in Venner Square and "up and down the Sydenham Road…"!
Set times:11.30am-12.15pm, 1-1.45pm, 3-3.45pm  FREE
Come along, listen to the music and sample the market's wonderful hot food, Italian Deli, cakes, crafts, jewellery and so much more! (Source: Sydenham Arts)
MEXICAN PUPPETEERS AT THE FOOD MARKET / PAXTON CENTRE ANERLEY HILL LAUNCHES THIS WEEKEND
From Crystal Palace food market:
This week we welcome the travelling performers of El Carretón del Desiérto, hosted by our friends WAPA (art gallery in the Haynes Lane Courtyard).  Come & see some quality madness before they head off to tour the Mexican Desert.
Plus chat to Silverfit about exercise for older folk, get some Neal's Yard Remedies from Molly, get your burger fix from Nosh, and pretty posies from ClaraFlora.
Also, Crystal Palace's new art space The Paxton Centre has it's grand opening this weekend.  Beth says "Join us over the weekend to view and enjoy our vibrant new community arts space. In the Handmade Palace shop and gallery we support local artists, designers and makers with a monthly residency who create a diverse range of handmade art, crafts, gifts and cards. 
Stay a while in our meeting space and cafe which serves coffee, teas, cold drinks, cakes, sandwiches and paninis. The creative class timetable is also taking shape now offering courses in pottery, drawing, and kids art clubs with more to come.  Hope to see you there!"  This project is supported by the market and Crystal Palace Transition Town.
Guest stalls this week – Antenna Cafe site
Nosh Catering: Fish finger sandwich
Guest lunch – Nosh Beef burgers, veggie burgers, fish finger sandwiches & today's special – spicy lamb wrap.
Kids & adults – puppetry & exhibition Dylan says "Come and witness and interact with the travelling puppeteers of El Carretón del Desiérto!  From 11am there will be an installation of Nomadic desert life in the gallery, with incredible desert photography that will certainly make you dream!  There will also be certain Mexican products available from WAPISTS and their friends!  Find them at WAPA gallery in the Haynes Lane Courtyard."
Flowers – ClaraFlora Grown locally by Clare.
Blowing Dandelion: Handmade chocolates
Chocolates & raw vegan truffles – Blowing Dandelion Chocolates, raw vegan truffles & brownies made by Michaela in Crystal Palace.
Neals Yard Remedies – Molly says "I'll be at the market with a free prize draw of goodies worth £20, samples, taking party bookings and products orders for all your organic needs."
Save Central Hill Community  Buy a badge or bag to help our neighbours raise money for legal costs to defend their homes.
Guest stalls this week – Courtyard site
Capo Caccia: Cheese & charcuterie
Cheese & charcuterie – Capo Caccia  Anotonio says "Come & see Marta for organic pecorino Sardo; Matured goat cheese; Peretta cow's milk cheese; Spicy and red wine salami."
Beer – Clarkshaw Brewery Beer made by Ian & Lucy in the Loughborough Junction arches.
Wine – Wine Scouts Pedro has outdone himself on the wine blah this week! "This week we'll taste the wonderful, biodynamic white wine Ciù Ciù La Merlettaie Pecorino from Marche in Italy: a complex mineral nose of citrus fruit, pears, herbs and almonds. Beautifully defined palate of taut citrus and pear fruit, interlaced with white pepper and a zesty long finish. Real definition and class. Pecorino is rare, precious and able to exhale a strong personality recalling ethereal and persistent sensations."  heeheehee
Silverfit – helping older folk to exercise. They say " Exercise is essential, especially when we get older. Exercise has a positive impact on our physical and cognitive health and will enable older folk to remain independent for longer." Come & speak to them about their project.
Weekly stalls – Antenna Cafe site
Lunch – Comfort & Joy Deli stall selling salads, pies, wraps (hot or cold), pies from Andrea.
Wild Country Organics: Summer goodness
Vegetables, salad, herbs & fruit – Brambletye Fruit Farm, Brockmans & Wild Country Organics.
Local growing project – Patchwork Farm (a Crystal Palace Transition Town project), selling locally grown food from our community gardens & gluts.  Get involved and bring in your gluts – or come and man the stall for an hour or so on a Saturday (email Christine if you're interested in either).
Get your copy of 21 stories from Transition book – where the market & Patchwork Farm are featured.
Meat – Gill Wing Farm Andrew says "I've got a great range of meat right across the board – pork lamb, beef, and chicken portions across the range – breast, thighs, drums and a good deal on chicken mini fillets."  Meat produced sustainably in East Sussex and Kent.
Raw milk, butter & other dairy – Hook & Son Organically produced in Kent.
Veaseys: Dan's family's boat NN733 'Le Belhara'
Fish – Veasey's Dan says "With September here we have had our sprats arrive just on time. We wont bring many up as they are never hugely popular. They should be though as they are a great source of Omega-3 and are a fantastic way to feed a family cheaply!  The squid are coming in too slowly (Winter is main season) so expect to see more of those around over the next few months.  We will have all our usuals including a good supply of freshly dressed crab and our famous hot smoked salmon."  Orders can be taken over email, by phone 01342 822906, via dm on twitter @fishmongersFR or even by Royal Mail.  Veasey's will do everything to accommodate your seafood needs.
Locally made art & crafts – Handmade Palace
Cafe – our friends at Antenna Cafe.
Weekly stalls – Courtyard site
Grain Grocer: Tomasz
Storecupboard refills – The Grain Grocer Grains, nuts, flour, spices, tea, eco cleaning products & much much more.
Bread (& naughty brownies) –  Chas & Momo  Sourdough, rye bread, croissants, pain au chocolate, savouries and brownies.
Collectables market –  our neighbour market Haynes Lane Market, a treasure trove of collectables.
The Foodbank – collection point at the market every week. Latest drop off (Tuesday 6 September) 30 kilos.  Total donated so far 1050 kilos.
We are proud to be part of Crystal Palace Transition Town.  Wondering who we are, what we do, or how you could get involved? Our blog section is a great place to start or this talk given by Joe Duggan, one of the co-chairs.
Follow us on twitter @CPFoodMarket or join us on Facebook.
CRYSTAL PALACE FOOD MARKET bottom of Haynes Lane / top of Bedwardine Road. Saturdays 10 am to 3 pm.
Now on two sites – the normal Antenna car park site and also in the Haynes Lane market courtyard.
"Meat, vegetables, fruit, eggs, honey, bread, cakes, salads, hot foods, the Cafe Thing, coffee, tea, pastries, cheese, dairy and munch munch more."
West Norwood Food bank collection: every week at the market.  Their shopping list  – which changes every so often. – can be found at
(The above is copied from an email; which mentions various links – for full links please go to the market website – Thanks)
DANGEROUS WOMEN OF SOUTH LONDON!
 
An evening with the Dangerous Women of South London!
Local suffragettes and their campaigning is the subject when Ruth Miller talks about Emily Leaf from Norwood and Barbara Thomas about other local campaigners and the suffragette shop on Anerley Hill at the next meeting of Norwood Society local history.
Admission to the meeting at Upper Norwood Library, Westow Hill, SE19 .
7.30 pm. Thursday September 15th is free. Donations welcome. Tea and cakes at the interval.
LONDON MOZART PLAYERS AT ST JOHN'S
London Mozart Players will be giving a free concert at their new base St John the Evangelist, Auckland Road,  Upper Norwood.
Date: Sunday, 23 October, 2016 Time: 3:00 pm – 5:00 pm Cost: Free
London Mozart Players     @  St John the Evangelist CRYSTAL PALACE   SE19 2RX om