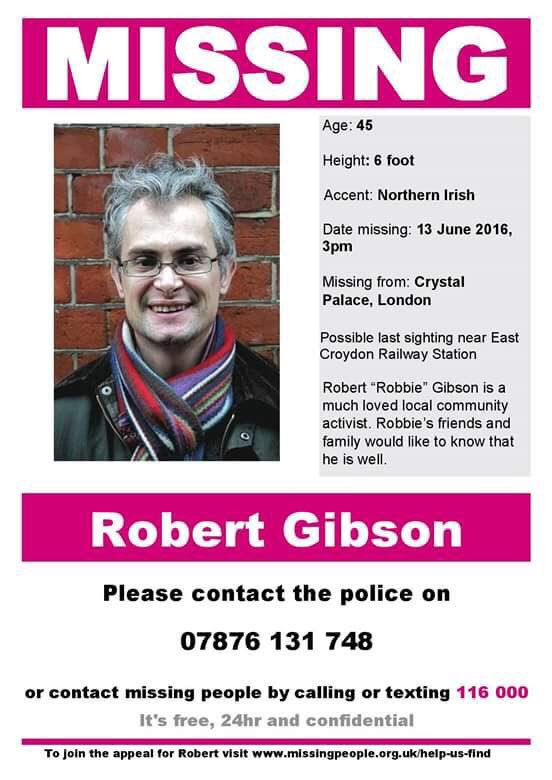 MISSING: MUCH-LOVED LIBRARY CAMPAIGNER
Robert "Robbie" Gibson, a much loved local community activist has been missing from his home in Crystal Palace since Monday and friends and family are becoming concerned about his whereabouts.
There has been a massive community response in Crystal Palace with thousands of fliers being distributed at train stations by his friends and neighbours, and there has been 1000s of shares and retweets on Facebook and Twitter . A local church and pub have become hubs for the volunteer effort
He was a leading light in the much-publicised Carnegie Library Occupation during April 2016 and has been a passionate and outspoken campaigner to save Upper Norwood Library since it came under threat of closure.
He was also very active in local community activity, helping set-up the "Sensible Garden" in South Norwood in 2014, named after local punk star "Captain Sensible" who came along to open the garden (see photo). The Garden won a Croydon Champions Award in 2015.
Robbie was last seen at approximately 3pm on Monday, 13 June leaving his home in Gipsy Hill, SE19 to go for a walk. He may have been in East Croydon around 3.30pm on the same day.
Robbie is around 6ft tall, slim frame, with a distinctive Northern Irish accent. He wears black-rimmed Prada glasses and was last seen wearing a grey t-shirt and a green Barbour coat.
Robbie's family and friends are becoming increasingly worried about his well-being, as this disappearance is very out of character, and would like to know that he is safe:
Please contact Lambeth Police on 07876 131 748
or Missing People on Freefone: 116 000  Text: 116 000
Email:[email protected]
ALSO FROM CRYSTAL PALACE FOOD MARKET: Our friend, local resident and campaigner Robert Gibson has been missing since Monday afternoon. He went out for a walk and hasn't returned.  Robbie has been unwell and we are worried for his welfare.
We thank the many many people who have already searched, flyered and shared Robbie's information on social media. Please share the poster widely, and if you are able to distribute flyers they are available to collect from The Grape & Grain.
For all updates and search information, please see the Crystal Palace Transition Town Facebook group.
Thank you to the local businesses and community groups who have donated thousands of flyers. A fundraiser has been set up for printing and search costs – you can contribute here , or there will be a tin on the Patchwork Farm stall at the market.
A press pack is available here – please forward to any press contacts within the UK. We respectfully request that you do not add extra personal information and do not add speculations from Facebook.
The hashtag #FindRobbie is being used on Facebook and Twitter.
Thank you all – these are very sad times. The Crystal Palace community spirit gives us hope.
________________________________
Guest stalls this week
Guest lunch – Jerky Fridays Patsy says "This week it's Rice and Peas; Pulled Jerk Chicken;  Jerk Pork; Curry Mutton;  Callaloo; Ackee & Saltfish; Fried Dumplings; Fried Plantains and Macaroni & Cheese."
Kids – kids book swap with Joseph.
Flowers – ClaraFlora  Grown just down the road.
Mushrooms & cheese – Nicki's Mushrooms Nicki is bringing us "Local cheeses –chilli goat, plain goat and Kentish blue. Rapeseed oils – lemon, chilli, smoked and natural. truffle oils, salt and honey along with wild & cultivated mushrooms."
Handmade pasta – Pastificio Mansi Emanuela says "Ciao, we have: Black truffle ravioli; Broad beans, peas, lemon zest & goat's cheese ravioli; Spinach & walnuts ravioli; Sun dried tomato & almond halfmoon; Artichoke & pecorino ravioli; Tagliatelle & gnocchi. Also tomato sauce and pesto.
World food/vegan – Return to Shashamane  Emilia is making "Chickpea salad with wakame seaweed; kidney beans with cardamom seeds & fresh tarragon; butter beans with dill parsley; Mexican street salad with cabbage & chillies; kale salad with a fresh turmeric dressing & sunflower seeds; fresh coriander sauce with chillies & garlic; hummus; roasted sweet potatoes with caraway seeds; spicy sauce with cayenne pepper; quinoa salad with linseed , basil & pomegranate; green beans stew."
Gluten free/dairy free/yeast free – Elvira's Secret Pantry Elvira is cooking up "Cakes –  cherry mini sponges, blueberry and almond tart, chocolate and hazelnut tart, fruit tartlets, apple and strawberry cake, vegan chocolate and cranberry mini loaves.Savouries – frittata bites, asparagus flan, courgette and aubergine quiche, spinach and leek flan, tomato and olive tartlets, vegan mushroom tartlets, Mediterranean cornbread muffins." Also, look out for Elvira's pop up Penge CanTeen on Wednesday 22 June.
Cakes – Cakertree Naomi says "We will have our latest addition – spinach cake with lemon zest frosting, giant jammy dodgers, shortbread millionaire, banana bread, salted caramel chocolate chip, and one of the favourites at the moment, coffee walnut vanilla bean cake."
Wine – Wine Scouts Pedro will be opening "Château Mourgues Du Grès from Costières de Nîmes in France. Pale gold in appearance with a youthful expression, a complex wine on the palate with floral and citrus notes as well as some white peach hints, a balanced acidity and a mineral, long finish.  Château Mourgues is made from young vines and is largely Grenache Blanc based with a compliment of Rousanne, Vermentino.  Serve chilled as an aperitif, or with grilled fish or seafood, or white meat."
Beer – Hiver Beers  Beer made with honey.
Crystal Palace Park – would you like to become a trustee? Click here for details.
Weekly Stalls
Lunch – Comfort & Joy Deli stall selling salads, pies, wraps (hot or cold), pies from Andrea.
Brockmans: Broad beans
Vegetables, salad, herbs & fruit – Brambletye Fruit Farm, Brockmans & Wild Country Organics.
Local growing project – Patchwork Farm (a Crystal Palace Transition Town project).   Get your copy of 21 stories from Transition book – where the market & Patchwork Farm are featured.
Fish – Veasey's  Dan says "Prime summer fish now in season and available to order – wild salmon & sea trout.  Also wild samphire is back!  Mussels still on a little break whilst they spawn.  We will also have some lovely fresh line caught mackerel."  Orders can be taken over email, by phone 01342 822906, via dm on twitter @fishmongersFR or even by Royal Mail.
Meat – Gill Wing Farm  Andrew tells me "I've got some great lamb. The beef is looking good too. Plus kofta kebabs at 90 pence each and pork & spring onion (grown on the farm) sausages and the usual pork cuts."
Hook: Making silage to feed their ladies over the winter
Raw milk, butter & other dairy – Hook & Son Steve says "A return to warmer temperatures and the fast growing grass has allowed us to get on with silaging. The pleasant odour of the fresh cut wafts over the farm; everyone working fast to make the most of the good weather window. Hopefully it will be a good crop this year, with plenty of nourishment for the cows!"  Here's a new article about Steve Hook crowd funding his farm.
Bread (& naughty brownies) –  Chas & Momo Sara says "This week it's Father's Day! So, we'll have loads of English muffins and sausage rolls to make any Dad happy! Also, Momo is making some very special mini veggie tarts."
Storecupboard refills – The Grain Grocer
Locally made art & crafts – Handmade Palace
Cafe – our friends at Antenna Cafe.
Collectables market –  our neighbour market Haynes Lane Market, a treasure trove of collectables.
The Foodbank – is still running low. They need:
loo rolls
instant mash
custard
tinned corned beef
tinned tomatoes
tinned fish
washing powder
UHT milk
The latest drop off was an astonishing 66.7kg! You are all amazing.  Total so far 969.8 kilos.
Barnados are hiring – click here for details.
The Douglas Fir needs your help – Our friends Gipsy Hill Brewery had a sweet little pop up pub in Anerley. They'd like to reopen – letters of support are needed.
We are proud to be part of Crystal Palace Transition Town.  Wondering who we are, what we do, or how you could get involved? Our blog section is a great place to start or this talk given by Joe Duggan, one of the co-chairs.
Follow us on twitter @CPFoodMarket or join us on Facebook.
CRYSTAL PALACE FOOD MARKET bottom of Haynes Lane / top of Bedwardine Road. Saturdays 10 am to 3 pm.
Now on two sites – the normal Antenna car park site and also in the Haynes Lane market courtyard.
"Meat, vegetables, fruit, eggs, honey, bread, cakes, salads, hot foods, the Cafe Thing, coffee, tea, pastries, cheese, dairy and munch munch more."
West Norwood Food bank collection: every week at the market.  Their shopping list  – which changes every so often. – can be found at
http://norwoodbrixton.foodbank.org.uk  
(The above is copied from an email; which mentions various links – for full links please go to the market website – Thanks)